[PRNewswire] Total Eren, Eren Industries and Aden Launch "Tera Energies", a
Company Dedicated to China's Clean Energy Transition
(PARIS and SHANGHAI, Sept. 22, 2020 PRNewswire=연합뉴스) Aden Group and Eren Groupe - through two of its subsidiaries, Eren Industries and Total Eren - are pleased to announce the launch of "Tera Energies", their joint venture in China. Based in Shanghai, the company will be dedicated to developing innovative energy efficiency and sustainable solutions for the commercial, industrial and governmental sectors in China, taking an active role in the country's low-carbon energy transition.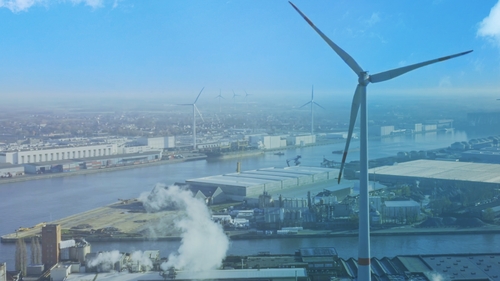 China's rapid shift in the age of decentralized energy
Over the past 10 years, China has accelerated its efforts and programs around energy-efficiency gains. It has set itself ambitious targets to increase renewable energy penetration in its mix. Along with this transition towards a less carbon-intensive system, the Asian market, China in particular, has seen a rapid shift from a one-way system of large power plants to a multidirectional, decentralized power. The responsibility of managing energy and minimizing CO2 emissions is now shifting to businesses, local governments and facility managers. To support this transition, Tera is offering a unique suite of integrated innovative services.
A unique partnership
Tera gathers together companies with extensive expertise and know-how in the fields of energy generation and optimization, facility management and sustainable services, all united by a bold vision for a clean energy future in China and Asia. The partners all benefit from a successful track record and renowned experience providing best-in-class innovative energy solutions and services in China and globally, for the benefit of their customers.
Total Eren brings its experience as a global Independent Power Producer ("IPP") with expertise across wind, solar photovoltaic (PV) and hybrid systems. It combines the financial strengths of a global player with the agility of a developer and the vision of a long-term investor, for both public and private customers. Tera will benefit from Total Eren's technical expertise, financing structuration know-how, procurement leverage and worldwide network to deliver best-in-class and competitive renewable energy solutions.
Eren Industries offers its unique portfolio of smart technology solutions and its global expertise in helping customers optimize their energy consumption and reduce their CO2 emissions. Eren Industries is engaged and specialized in the development, financing, and management of projects that significantly reduce the amount of investment needed for heating and cooling energy systems, generating important savings on the annual energy operating costs of buildings.
Aden Group brings an operational and regional facility management expertise built over 20 years in Asia. Its network includes 80 Chinese cities and 1,500 partners, giving it unique insight into China's evolving business, regulatory and environmental demands. Through Tera, Aden Group will accelerate its longstanding mission of integrating traditional facility management with technical and environmental innovation, sustainability and quality of life outcomes.
Digitalize, Decentralize, Decarbonize
With Tera, the partners move into a new and ambitious phase, combining their experience and resources to support their clients in digitalizing, decentralizing and decarbonizing their energy supply.
Tera will serve as an efficient and competitive provider of renewable energy solutions, combining innovative energy optimization services and mature sustainability technologies to help companies reduce their energy bill and improve their carbon footprint. The firm will fully focus on China's clean-energy and smart-city sectors, giving it the capacity to accelerate pioneering work in B2B renewable energy and AI-powered energy optimization.
Paris Mouratoglou, Founder and Chairman of Eren Groupe, stated: "The creation of this new joint venture in China together with Aden represents a new step of Eren's international development strategy. We are very pleased to become the energy-solution partner of the unique business platform Aden is developing in China. Looking ahead, we are eager to deliver together our solutions for the benefit of our clients to help them rationalize and optimize their energy consumption in a sustainable way."
David Corchia, Co-founder and CEO of Total Eren, added: "We are thrilled to bring our global expertise in renewable energy to the Chinese market. I would like to thank our partner, Aden Group, and Eren Industries for this excellent cooperation, as well as our teams for their hard and continuous work which made the launch of Tera possible. In line with Total Eren's pioneering spirit, we look forward to developing tailored renewable energy solutions for private customers in China."
Joachim Poylo, Co-founder and President of Aden Group, stated: "The world has arrived at a true crossroads moment. The environmental outcomes that result will be profoundly shaped by Asia, and by the way energy is managed in its cities and buildings. The energy transition market in China alone is a trillion-dollar opportunity requiring the highest level of technical and operational expertise with deep local knowledge. Tera offers precisely this, and we could not be more excited to help drive clean energy transitions in Asia."
Francois Amman, Co-founder and Co-President of Aden Group, said: "This is a moment when all the pieces of the puzzle are coming together for Asia: asset management, facility management, energy optimization and generation. We have spent the past five years investing in the technical expertise and digital tools to powerfully respond to this moment of opportunity -- with the platform we have built, and the addition of our partners Total Eren and Eren Industries, we will be able to respond faster than ever before to our clients' needs and create change with the speed and scope that this moment demands."
Photo - https://photos.prnasia.com/prnh/20200918/2921693-1-b
Logo - https://photos.prnasia.com/prnh/20200918/2921693-1
Source: Aden Group
[편집자 주] 본고는 자료 제공사에서 제공한 것으로, 연합뉴스는 내용에 대해 어떠한 편집도 하지 않았음을 밝혀 드립니다.
(끝)
<저작권자(c) 연합뉴스, 무단 전재-재배포 금지>
관련뉴스